How Power Is Restored – Our Number One Priority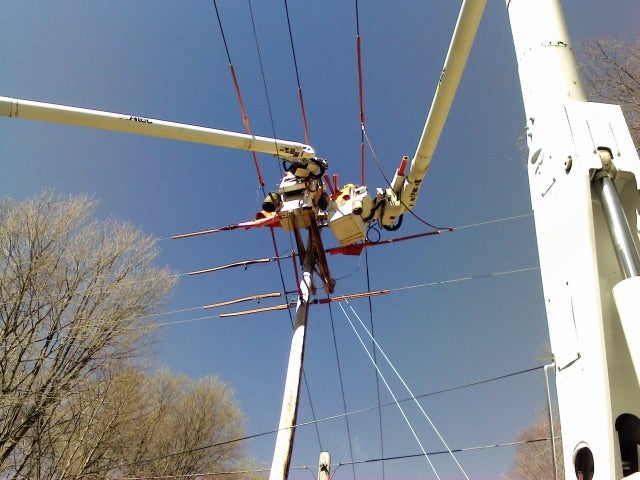 Weather in all four seasons can cause power outages.  While restoration of power can be a complicated process, REA has a plan to turn the lights back on in a quick and efficient manner.

There is a certain order that must be followed when restoring electric power. Electricity comes from the substation, and then the first line feeds into the second, the second into the third and so forth until the end of the line is reached. When performing repairs, the same order must be followed. It would be worthless to repair a service line to a house if the distribution lines were not working yet.
Next on the repair list are three-phase main distribution lines (2). They are the main "artery" in transmitting power. The power has to go through these to reach consumers.
In an outage, some members will receive power when the substation or three-phase lines are re-energized. Sometimes, however, the damage is more extensive and major work will need to be done to a single-phase distribution (3) or tap line (4).
A tap line comes off the main line. It may feed a single home or many homes. Tap lines with the most consumers on them will be repaired first.

Lastly, individual services will be repaired.

Sometimes a tree or branch may rip wires from the home, and the homeowner will need to contact an electrician to re-establish a safe wiring connection. REA Energy Services can perform this work.

REA Energy thanks you in advance for your patience and understanding during an outage. Damage that may occur in a few moments can take hours or even days to repair. Be assured that our employees are doing everything they can to restore your power as quickly as possible.
What You Should Do If An Outage Occurs
REA Energy will spend thousands of dollars this year and in the years to come in order to provide our consumer-members with a reliable source of power. Part of the money is used for maintenance and tree trimming, but sometimes situations occur that are beyond our control, such as the weather. By following the steps listed here, you will help REA get your power back on as quickly as possible.
1. Check your circuit breakers or fuses in your fuse box in order to make sure that none have tripped or blown.
2. See if your neighbors have power.
3. Call REA Energy's outage number at (724) 463-7273 or 1-800-332-7273 and our automated phone system will automatically record your name, account number, location, and the time you called in. If you choose to leave a message, please stay on the line, and your message will be recorded for our dispatcher's use. With the outage reporting system, it is not necessary to call the system and/or office phone multiple times.
4. If your power is restored and goes out again, please call our office to report the problem again. We may think that the problem was fixed the first time.
5. Most importantly, please be patient. If the outage occurs during a storm, many people are trying to call at the same time. After reaching us, please don't continue to call. We need the phone lines available to hear from everyone who has an outage.